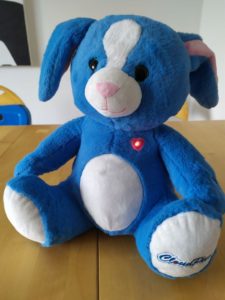 This is the big blue bunny rabbit that our children spotted whilst on holiday in Dorset. It was for sale for the quite reasonable price of 50p. After some debate over who would be making the purchase, he was presently in the bag /  saved from landfill / one of the family.
The parting words of the stall holder rang in my ears, a clarion call to action: "you can connect your phone to it and stuff"
what stuff I wondered. What might it be capable of?
A google later and I had the app. The connection was made to the bunny but there was another connection to make, this time to a news story:
theregister.co.uk/2017/03/01/cloudpets_woes_worsen_mics_can_be_pwned/
oh dear. The batteries were swiftly removed.
Now in the depths of winter I have taken the final step to remedy matters for my son to enjoy his improbably treasured bunny:
and sew it ends!