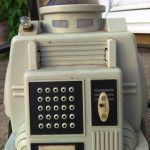 This is Prince Hal. Originally a Christmas Present (c1989) he was infra red controlled with the ability to follow a sequence of instructions sent to him from a television-remote style controller. Then, for no apparent reason, he ceased working . I gutted him and replaced the circuitry with that from a radio controlled car and a walkie talkie headset unit. Also a radio doorbell.
The walkie talkie sound output to his chest speaker and the radio controlled car circuit ran to his motors and head LEDs. Various other connections  were made which allowed for connecting a charger and pressure pad (for the doorbell as a proximity alarm).
The happy accident is that the voice activated microphone now triggered the wheels and the headlights. When put in front of a speaker the robot danced with delight and flashed his eyes. I added a mercury tilt switch and sometime later a mobile radio detecting LED, all of which made for a fun early experiment!